General Election Prediction
Current Prediction: Conservative majority 100
| Party | 2015 Votes | 2015 Seats | Pred Votes | Pred Seats |
| --- | --- | --- | --- | --- |
| CON | 37.8% | 331 | 46.4% | 375 |
| LAB | 31.2% | 232 | 33.0% | 201 |
| LIB | 8.1% | 8 | 7.9% | 3 |
| UKIP | 12.9% | 1 | 4.3% | 0 |
| Green | 3.8% | 1 | 2.3% | 1 |
| SNP | 4.9% | 56 | 4.2% | 49 |
| PlaidC | 0.6% | 3 | 0.6% | 3 |
| Minor | 0.8% | 0 | 1.3% | 0 |
| N.Ire | | 18 | | 18 |
Prediction based on opinion polls from 12 May 2017 to 26 May 2017, sampling 12,369 people.
Probability of possible outcomes
Conservative majority

| | |
| --- | --- |
| | 73% |

Labour majority

| | |
| --- | --- |
| | 9% |

Con/Nat coalition

| | |
| --- | --- |
| | 6% |

Nat choice of Con/Lab

| | |
| --- | --- |
| | 4% |

Lab/Nat coalition

| | |
| --- | --- |
| | 3% |

Con choice of Lib/Nat

| | |
| --- | --- |
| | 2% |

Lab choice of Lib/Nat

| | |
| --- | --- |
| | 2% |
The future is never certain. But using our advanced modelling techniques, we can estimate the probability of the various possible outcomes at the next general election. ('Nat' means SNP+PlaidC)
Political Geography
New Data Map – detailed political mapping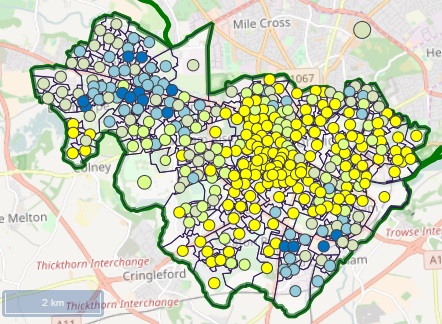 Norwich South: EU Referendum vote at neighbourhood level
The new "Data Map" is a fully browsable map which can display a dozen indicators from the Electoral Calculus geographical database. The key indicators include:
Party winner at the 2015 general election
Left/right economic position, and international/national position on the Two-D political plot
EU Referendum result
Demographic data including British Identity; Health; UK Born; Education; Good Job; Economic Status; Age and Class
Uniquely these indicators are available at four geographic levels:
Current Westminster parliamentary constituencies
Proposed Westminster seats (2018 boundaries)
Local council wards (2015 boundaries)
Census output areas (very fine-detail) within an individual seat
The map allows you to explore the political and demographic make-up of the entire country, regions or individual localities, and opens up a whole new way to see political data.
The Data Map is available here now.
Posted 25 May 2017
Electoral Modelling
What does the predicted winner not always have the largest win chance?
Many people have asked why sometimes the predicted winner in a seat doesn't have the largest chance of winning it.
Here is the explanation of this apparent paradox. Along the way, it will touch on electoral models, concave functions, and distributional skew.
Posted 29 May 2017
Prediction Model
New Model for EU Vote, Regional Swing and Incumbency
The main Electoral Calculus model has been updated to include several new features which are relevant to the 2017 election. The three new features are:
EU Referendum vote. Polling suggests that "Remain" voters tend to stick with their 2015 party of preference, but many "Leave" voters have migrated to the Conservatives. This model now includes that effect for each constituency, by migrating voters to new parties based on both their 2015 vote and their referendum vote.
Regional Swing. YouGov recently published a large region-by-region poll. This allows vote swings to be more accurately allocated between regions. For instance, Wales and the North are more Conservative than uniform national swing would predict, and London and the South are less Conservative.
Incumbency. A new feature is estimates of the incumbency factor for some high-profile MPs. This particularly effects Green and Lib Dem seats. For instance, Brighton Pavilion is now predicted to be safer for the Greens because of tactical voting by Labour.
These changes should make individual seat predictions more accurate, though there can often be local factors which confound any prediction model.
In party terms, these three changes are worth about 15 seats to the Conservatives, mostly at the expense of Labour.
Full details of the model changes are described in this new research note.
Posted 23 May 2017
Campaign Calculus
Scotland has passed peak SNP, but they still rule the roost
In Campaign Calculus, Martin Baxter looks to Scotland, following the recent YouGov poll on Scottish voting intention. The SNP will still win most seats, but the Conservatives are gaining ground and there will be some tough battles on election night.
Read the full article at the Daily Telegraph online.
Posted 22 May 2017
Campaign Calculus
Ukip and the Greens have abandoned hundreds of seats. But who benefits?
In this Campaign Calculus article, Martin Baxter looks at what impact on the final election result will be caused by UKIP and the Green party standing aside in hundreds of seats. The UKIP effect is worth about nine seats to the Conservatives, but the Green effect hardly helps Labour at all.
Read the full article at the Daily Telegraph online, or here.
Posted 16 May 2017
Scotland
Tories tipped to oust SNP deputy leader Angus Robertson and take 11 seats in General Election
Read about Electoral Calculus's new prediction for Scotland based on the final candidates' list and discover what it can mean for the Conservatives and SNP.
Read the full article in the Scottish Sunday Mail by Mark Aitken.
Posted 14 May 2017
Electoral Analysis
Progressive alliance would not stop Tory majority, study suggests
Read in the Observer about a new Electoral Calculus study which shows that even a full progressive alliance can't stop the Conservatives this year.
Read the full article in the Observer by Michael Savage.
Posted 14 May 2017
Prediction model
Greens and UKIP stand aside
In a number of seats, some of the non-Conservative parties have announced that they will not field a candidate, in order to increase the chance of beating the Conservatives. But also UKIP is not standing in many seats, which helps the Conservatives.
Electoral Calculus has updated its main prediction model to allow for this new development. Released on 8 May, this new version of the model transfers votes from non-standing parties to the parties which would be expected to benefit from tactical voting. This modelling applies to both the headline prediction as well as the user-defined predictions.
All GB seats have now been updated from the actual candidate lists which were finalised on 11 May. The summary statistics are:
The Conservatives are standing in all GB seats
Labour are standing in all GB seats, except Buckingham (was John Bercow, Speaker)
The Lib Dems are standing in all seats except four
UKIP are only standing in 377 out of 632 seats
The Green Party are standing in 461 seats
The SNP and Plaid Cymru are standing in all the seats in Scotland and Wales respectively
Posted 8 May 2017, Updated 14 May 2017
Campaign Calculus
How a new party could rise from the ashes of the Labour Party — and become the main opposition
In the latest Campaign Calculus, Martin Baxter looks at whether it is really practical for the left-of-centre parties to realign. New research shows that it is, but it would require about a third of the existing Labour party MPs and supporters to break away and join with like-minded Liberal Democrats and Greens.
Read the full article at the Daily Telegraph online, or here.
Posted 9 May 2017
Local Election Results
You Heard it Here First
A striking feature of the local election results is how well they correspond to our prediction made one week beforehand. The Guardian's Martin Robbins and Martin Baxter of Electoral Calculus predicted that the Lib Dems would not pick up significant numbers of Conservative Remain voters. We also said that the Conservatives would gain large numbers of Leave voters which would hurt all the other parties, and especially UKIP.
The local election results are very consistent with that forecast, as the Lib Dems did not make progress and indeed lost 10pc of their existing wards. The Conservatives picked up a large number of wards from most of the other parties, and UKIP was almost completely wiped out.
You can read the original article at the Guardian online.
Posted 8 May 2017
Local Election Results
Making sense of the locals
Notoriously, local elections are a poor guide to the subsequent general election. Even the dogs in the street know that. But is there any information we can get from them?
At a qualitative level, local elections do give a bit of a clue in terms of overall direction. The most striking table, which is worth a thousand words of dull commentary, shows the ward changes:
| Party | Old Wards | New Wards | Change |
| --- | --- | --- | --- |
| CON | 1,336 | 1,899 | +563 |
| LAB | 1,534 | 1,152 | −382 |
| LIB | 483 | 441 | −42 |
| UKIP | 146 | 1 | −145 |
| Green | 34 | 40 | +6 |
| SNP | 438 | 431 | −7 |
| Plaid Cymru | 169 | 202 | +33 |
The key message of this table is that the Conservatives have gained a large amount of wards, and the other parties have lost wards (except Plaid and the Greens). That writes the prose headlines, but it isn't quantitative.
The main quantitative measure is the Projected National Vote Share (PNVS) which the BBC publish, which shows a Conservative lead of just 11pc. Sky News published a similar measure, the National Equivalent Vote, which had the same Conservative lead and a projected Commons majority of 48. But the opinion polls show a lead of around 18pc and a majority of over 100.
They can't both be right. In fact, the PNVS is not a great guide to the general election. It usually understates the Conservatives and overstates the Lib Dems. This is not surprising, since local elections aren't a good guide in the first place.
But we can use a bit of lateral thinking to adjust the PNVS to get a more realistic indicator. Here's the idea: take the error between the PNVS in 2015 and the actual 2015 general election result, and use that error to correct this week's PNVS. For fans of equations, here's the equation:
Estimate:2017 = GE:2015 + PNVS:2017 − PNVS:2015
And here is the explicit calculation:
| Party | GE 2015 | PNVS 2015 | PNVS 2017 | New Estimate |
| --- | --- | --- | --- | --- |
| CON | 37.8 | 31.3 | 38 | 44.5 |
| LAB | 31.2 | 30.3 | 27 | 27.9 |
| LIB | 8.1 | 13.7 | 18 | 12.4 |
| UKIP | 12.9 | 13.3 | 5 | 4.6 |
(I used the average of PNVS from 2014 to 2016 as a proxy for 2015, since the series is rather noisy.)
Now this is a poll-free estimate for the next general election, using just local election results. If we plug it into the Electoral Calculus election predictor, then we get the following result:
| Party | 2015 Votes | 2015 Seats | Pred Votes | Gains | Losses | Net Change | Pred Seats |
| --- | --- | --- | --- | --- | --- | --- | --- |
| CON | 37.8% | 331 | 44.5% | 53 | 0 | +53 | 384 |
| LAB | 31.2% | 232 | 27.9% | 0 | 45 | -45 | 187 |
| LIB | 8.1% | 8 | 12.4% | 3 | 0 | +3 | 11 |
| UKIP | 12.9% | 1 | 4.6% | 0 | 1 | -1 | 0 |
| Green | 3.8% | 1 | 2.6% | 0 | 0 | +0 | 1 |
| SNP | 4.9% | 56 | 4.1% | 0 | 11 | -11 | 45 |
| PlaidC | 0.6% | 3 | 0.6% | 1 | 0 | +1 | 4 |
| Minor | 0.8% | 0 | 3.3% | 0 | 0 | +0 | 0 |
| N.Ire | | 18 | | 0 | 0 | +0 | 18 |
This is a Conservative majority of 118, and is somewhat closer to what the pollsters are saying, but based on local election results only. Maybe this is real. Maybe the dogs in the street don't know it all.
Posted 6 May 2017, revised 7 May 2017
Electoral Analysis
Lib Dems shouldn't count on Remain votes
In a joint collaboration, data scientist and Guardian columnist Martin Robbins and Electoral Calculus founder Martin Baxter explore whether or not the Conservatives might lose several seats to the Lib Dems due to "Remain Conservatives" switching sides.
In fact, ICM polling evidence shows that most Remain Conservatives will stick with the Conservatives. However Leave voters are deserting the other parties in favour of the Conservatives in a way that dwarfs the movement in the other direction.
Read the full article at the Guardian online.
Posted 27 April 2017
Political Geography
The Thirty Most Extreme Places in Britain – Political Extremes
In the second and final part of this article, Electoral Calculus uses its detailed political and demographic database to identify the most political extreme localities in Britain.
This article reveals the most left-wing and right-wing localities, as well as the most internationalist and nationalist ones. Also discover the most "Remain" and "Leave" locations, as well as the places in the country which most strongly supported each of the major political parties.
Read the conclusion of this major article to discover the politically extreme places of Britain.
BBC Radio Sussex visited Havelock Road in Brighton, which is the most left-wing street in Britain. Listen here to BBC political reporter Ben Weisz as he tests the Electoral Calculus prediction.
Posted 21 April 2017
Political Geography
The Thirty Most Extreme Places in Britain – Demography
Electoral Calculus has developed a large database giving very detailed political and demographic information.
It is based on very small localities, usually consisting of a couple of streets or a few postcodes. These localities – officially called Census Output Areas – are the smallest geographic areas used to report the results of the 2011 Census. There are about 227,759 of these in Great Britain (England, Scotland and Wales), having on average around 200 voters each.
Using Electoral Calculus models, we can estimate the political affiliation and attitudes of people within each locality, based on the demographic variation between each locality and its district council ward.
One interesting approach is to look at the localities that are extreme (either extremely high or extremely low) for each of twenty demographic and political measures. There are around 30 of these extreme localities. Together they provide an insight into the diverse political and demographic geography of the country.
This first article lists the places that are extreme for the eight census measures used. Each section defines the measure and its meaning, and describes the two localities with the smallest and largest score on the measure.
Read the full article to discover the extreme places of Britain.
Posted 29 March 2017