POLLING ANALYSIS
Electoral Calculus has pioneered low-cost MRP regression techniques for high-quality and insightful analysis of polling data.
More details
PROPERTY POLL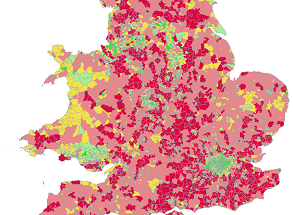 A regression poll with Find Out Now for the Property Chronicle asked people whether they would support or oppose more house building in their own neighbourhood. Answers varied greatly depending on location.
ELECTORAL PACT POLL
A regression poll for the Constitution Society asked the public if they would vote for an electoral pact between Labour, the Liberal Democrats and the Green party. They said they would and many seats could change hands.
Local Elections
Electoral Calculus and Find Out Now correctly predicted a key mayoralty race and most of the English district and unitary councils using modern polling methods.
LOCAL ELECTIONS 2021
New Wards for 2021
Wards are now updated to include local boundary changes for 2021. New wards now available for Cornwall, Isle of Wight, Wiltshire, North Northamptonshire and West Northamptonshire.
LIVE UPDATES
Current state of party support nationally as measured by the opinion pollsters. Data are shown in both graphical and tabular form for national polls taken over the last month or so.
POLITICAL MAPS
Our uniquely detailed Data Map of Britain shows twelve political and social measures including past votes and political attitudes.
All available at various geographic levels of detail including parliamentary seats, district wards, and individual neighbourhood localities.
HISTORICAL DATA
Data includes historical data flat files of UK elections from 1955 to date plus our track record of predictions and much more.
Post Election 2019
Using a political triangle, this graphic shows how every seat moved between 2017 and 2019 elections. Changed seats can be shown separately and every seat can be identified.
Post Election 2019
See how voters moved around based on which political and demographic groups they belong to. Includes the Electoral Calculus seven political tribes, age and attitudes to the EU.